Costa Rica Real Estate Commercial and Investment Opportunities (100%)
Invest Costa Rica – Pineapple farm with great sales. We continue to plant to ensure continued production. The out planting rate is about 20.000 seedlings per week resulting in 1 ha – 1.25 per month. With this rate we should have around 14 ha planted by Apr 2020, and 20 ha by Dec 2020. These numbers are taking into account that we are not planting from Apr to early July due to the lower demand for pineapples in these months.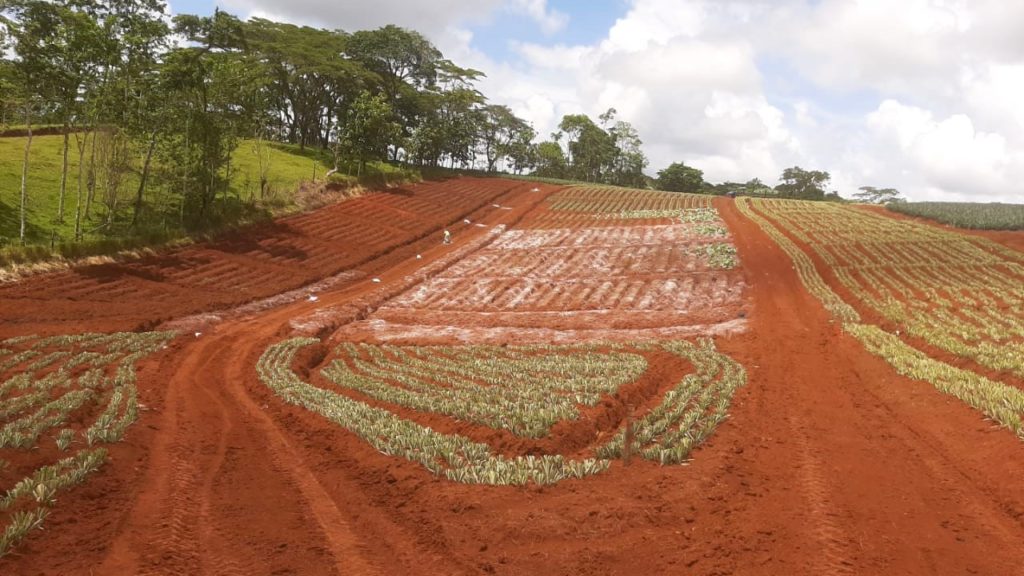 Invest Costa Rica – Pineapple farm with great sales. In this picture, you can see how the new beds are planed. The white powder is the fertilizer that we spread out prior to planting. This result is excellent results as the fertilizer is forced down into the ground when the slip/seedling is planted.
Farming is a long-term business investment 
From a business standpoint, our Panama Golden Pineapple business has suffered the least damage since the Covid-19. Paul, Tom, Marine, and the whole team have done a great job in responding to these unprecedented changes in our world economy. All workers in the field, our shipping partners, our wholesale partners, packhouse employees, have all made significant contributions to keep the business stable – especially short working days given by the government during lockdowns. It takes a whole team to deliver such excellence.